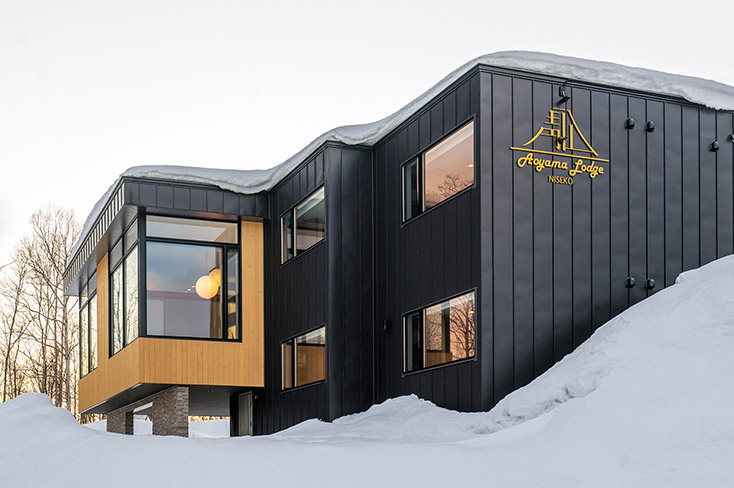 With one of the best views in Niseko, Aoyama lodge is an idyllic mountain retreat. Spacious communal areas, four ensuite bedrooms, a sophisticated tatami room, housekeeping from Monday to Saturday and free shuttle service (winters) make this brand new chalet an enviable choice for your group's next mountain vacation experience.
Car Parking
Washing Machine
Tumble Dryer
Dish Washer
Equipped Kitchen
Oven/Hotplates
Microwave
BBQ (Extra)
Coffee Machine
Internet (WiFi)
Baby Cot (Extra)
High Chairs (Extra)
Hot Water
Emergency Phone
Fire Extinguisher
First Aid Kit
Freezer
Android TV box
Apple TV
Central heating
Oven Toaster
Refrigerator
Safety Card
Ski storage /dry room
Smoke Detector
Bedroom 1 (King/Twin)
Bedroom 2 (King/Twin)
Bedroom 3 (King/Twin)
Bedroom 4 (King/Twin)
Tatami room (Twin)
Chef/Cook (Restricted hrs) (Extra)
Concierge
Driver (8 hours) (Extra)
Masseuse/Spa Therapist (Extra)
Babysitter (Extra)
Grand Hirafu Gondola
2.60 KM
Otaru City
70.00 KM
Sapporo City
100.00 KM
Mt. Yotei Makkari Entrance
5.50 KM
Lake Toya
50.00 KM
Hirafu Intersection
1.70 KM
Tomo Izakaya
0.40 KM
This chalet comes with every conceivable luxury – and then some.
Enjoy exclusive use of the chalet and its facilities, along with welcome pack; high-speed, unlimited WiFi; and the option to self-cater or dine with Niseko Gourmet's delectable selection and services. A free shuttle service to and from Niseko and Hirafu Village is also available during the winter season.
Promotions
Ski Season Early Booking


Book early for the upcoming winter season of 2021-22 and get 15% off on chalet rates
Valid on new bookings received until 1 October 2021
For stays from 23 November 2021 until 13 April 2022

Terms and conditions:

- Discounts valid only on new bookings received from now until 1 October 2021, for stays from 23 November 2021 until 13 April 2022

- Guaranteed refund or credit conditions apply at the time of booking

- May not be combined with other discounts and/or special offers



**At Elite Havens, we understand that flexibility is required for travel planning in the current COVID-19 scenario, so should your flights be cancelled or a government travel advisory require you to be quarantined, we will convert your booking to a credit note valid for 12 months (same chalet, subject to availability). Terms and conditions apply.

Experience a Blooming Summer in Hokkaido
As much as Niseko is known for its soft, powder white snow, it is in summer that it truly displays its blooming, mesmerising self. From white-water rafting in Shiribetsu River to hiking through a myriad of mountain trails, summer in Niseko has plenty to do for the entire family. Embark on thrilling adventures or soak in the Hokkaido experience when you stay at our enchanting private chalets. Save 15% on new bookings made from now until 30 June 2021, for stays from 14 April until 22 November 2021.

Terms and conditions:


- Discounts valid only for new bookings received from now until 30 June 2021

- Valid on stays from 14 April until 22 November 2021

- Guaranteed refund or credit conditions apply at the time of booking

- May not be combined with other discounts and/or special offers

- Security deposit, cleaning fee and one-night surcharge applies
Period
JPY / night
Min nights
Inclusions
14 Apr to 22 Nov
58,000.00++
1
23 Nov to 13 Dec
62,500.00++
2
14 Dec to 20 Dec
78,000.00++
4
21 Dec to 05 Jan 2022
120,500.00++
7
++Villa rates are subject to 5% service charge, taxes, etc
Period
JPY / night
Min nights
Inclusions
06 Jan to 28 Jan
110,000.00++
5
29 Jan to 06 Feb
120,500.00++
7
07 Feb to 28 Feb
95,000.00++
4
01 Mar to 13 Apr
70,000.00++
3
14 Apr to 22 Nov
58,000.00++
1
++Villa rates are subject to 5% service charge, taxes, etc
Read our terms & conditions