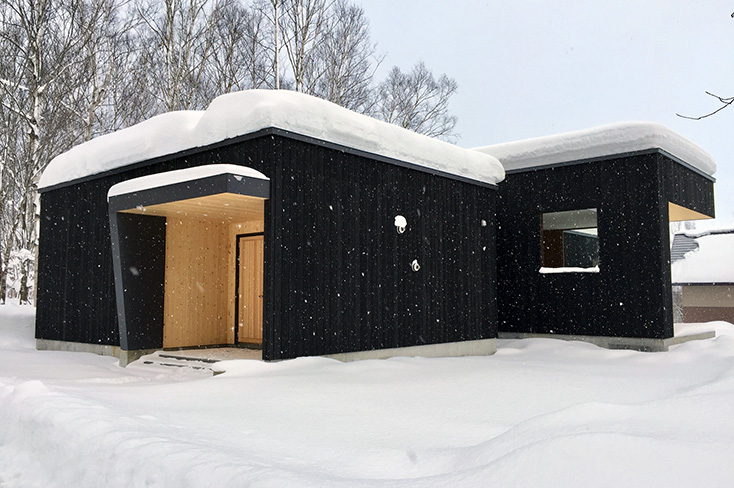 Gazing out the window, watching the snow falling on white birch trees, you may think you were in a winter paradise. This is the beauty of Birchwood, a stylish three-bedroom chalet in Soga, just minutes away from the famed ski slopes of Niseko Village Ski Resort, Hokkaido.
Car Parking
Washing Machine
Iron/Board
Dish Washer
Bed Linen
Towels
Toiletries
Equipped Kitchen
Oven/Hotplates
Microwave
BBQ (Extra)
Coffee Machine
TV (Local channels)
iPod Dock/Speakers
Internet (WiFi)
Hairdryers
High Chairs
Baby Cot
Blender
Bread Toaster
Emergency Phone
Fire Extinguisher
First Aid Kit
Hot Water (Extra)
Central heating
Juicer
Refrigerator
Safety Card
Smoke Detector
Master Room (2Queens)
Bedroom 2 (King/Twin)
Bedroom 3 (King/Twin)
Housekeeping (Restricted hrs)
Chef/Cook (Restricted hrs) (Extra)
Concierge
Service Staff
Babysitter (Extra)
Lake Toya
40.00 KM
Hirafu Welcome Centre
5.00 KM
NIseko Takahashi Dairy Farm
1.70 KM
Bar Gyu+
3.50 KM
Otaru City
73.00 KM
Sapporo City
100.00 KM
Niseko Village Golf Course
3.50 KM
Mt. Yotei Makkari Entrance
20.00 KM
Green Leaf Hotel
2.70 KM
Hilton Hotel
3.50 KM
Hanazono
19.00 KM
Hirafutei Hotel Onsen
4.60 KM
Kamimura Michelin Star Resto
5.00 KM
This chalet comes with every conceivable luxury – and then some.
Enjoy exclusive use of the chalet and its facilities, along with welcome pack; high-speed, unlimited WiFi; and the option to self-cater or dine with Niseko Gourmet's delectable selection and services. A free shuttle service to and from Niseko and Hirafu Village is also available during the winter season.
Promotions
Book with Confidence & Stay Safe
Enjoy up to 15% off on all stays from now until 30 September 2020.

We understand that flexibility is required for travel planning in the current Covid-19 scenario, so should your flights be cancelled or a government travel advisory require you to be quarantined, we guarantee a full refund of the amount paid or a credit for the amount paid that can be used within 12 months of your check-in date, in the same chalet, subject to availability, valid for new bookings received from 19 February 2020 onwards. Terms and conditions apply.

Terms & conditions:
- Discounts valid only for new bookings received from 19 February 2020, and for stays before 30 September 2020
- Guaranteed refund or credit conditions apply at the time of booking


Early Bird Discount Rate
Enjoy 10% discount for bookings confirmed from now until 31st August 2020, for stays between 14th December 2020 and 31st March 2021.
Period
JPY / night
Min nights
Inclusions
14 Apr to 22 Nov
47,775.00++
1
23 Nov to 13 Dec
47,775.00++
2
14 Dec to 20 Dec
64,575.00++
4
21 Dec to 05 Jan 2021
113,925.00++
7
++Villa rates are subject to 5% service charge, taxes, etc
Period
JPY / night
Min nights
Inclusions
06 Jan to 01 Feb
103,950.00++
5
02 Feb to 10 Feb
87,150.00++
4
11 Feb to 20 Feb
103,950.00++
5
21 Feb to 01 Mar
87,150.00++
4
02 Mar to 13 Apr
62,475.00++
3
14 Apr to 22 Nov
47,775.00++
1
++Villa rates are subject to 5% service charge, taxes, etc
Read our terms & conditions